Hiking towards the Falls

Swimming Hole

So Many Levels of this Magic Waterfalls

Huatulco Waterfalls Tour

Relaxing by the Waterfalls

Picture Perfect in Mexico

Crystal Clear Water

The Best Huatulco Tour Guide

Cascadas Magicas

Enjoy the Hike

Lifting the Rock

Enjoying the Shade in Huatulco

Beverages of your choice available

Emerald Falls

Swimming Below the Waterfalls

The Beauty of Nature

Pathway Across the River

Mud Masks

Beautiful Water with a Rope to Swing on

Descending the Mountain

Group Photo

Dining Enjoyment on the Tour

Hanging out in the nice cool Mexican Water

Magic Waterfalls

Breathtaking View

Clear Water in Nature

Alfonso at the Waterfalls

Nature at Its Finest

Nature Hike
Cascadas Magicas Waterfalls Excursion
Your visit to Huatulco will not be complete without the waterfalls excursion.
Cascadas Magicas roughly translates to Magical Waterfalls, and that is how many describe their experience there.
This magical waterfalls experience is the result of the Copalitilla river travelling down a couple of miles of steep mountains. Trees, flowers & other vegetation surround the area, giving it a tropical atmosphere that one would expect in some of the best movie sets.
The tour follows a foot trail along the river, which brings you past several large cascades. The best, and most scenic part of the waterfalls excursion, is toward the end, or about a 10-15 minute walk away. Make sure you have your swim shorts. Swinging ropes hanging from tropical trees allow you to make a big splash in the nicely pooled water. There are also caves with water flowing, that you can wade through. One cave even goes right behind the waterfalls.
Once you have had your fill of swimming & adventure, make sure you have some extra pesos to grab a meal at the restaurant, which offers numerous local dishes for an authentic taste of Mexico.
All in all, this is one of the best Huatulco Tours available. It incorporates swimming, nature, wildlife, and local foods. If you are spending time in Huatulco, you do not want to miss the Cascadas Magicas experience.
Optional Zip Line
If adventure is what you are seeking, your Huatulco Waterfalls Tour will not be complete without the optional zip line trip. Soar above the trees and take in the breathtaking scenery as you glide through the Huatulco wilderness. This excursion option does cost an extra $20 USD, though, so make sure you have some extra cash with you.
Huatulco Waterfalls Tour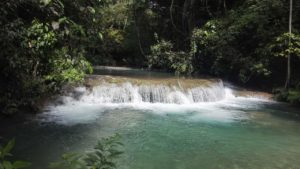 This Huatulco Waterfalls Tour combines nature, adventure & eco-tourism. It helps support the local economy, and lets you experience Huatulco in it's rawest form. Book today, and you will not be disappointed!
How long is the tour: Generally 6 hours
Pickup: Wherever you are staying
$50 USD – Water and lunch included in the price
Ask about better rates if you have a large group
10% of every purchase will be donated to help local community needs
Email now to book your tour with Alfonso
Alfonso is a Great tour guide. He went out of his way to make our adventure a lot of fun. He asked us what we wanted to shop for and took us to places where we could find it. He is there to please. I...More

_sheilatrieber11
5/24/2018

My brother and I instantly contacted Alfonso after reading about him on his website. He was SO accommodating for us and worked with us to create such an amazing experience that I will forever remember. Meeting Alfonso and traveling around Huatulco and Pluma Hidalgo together...More

themichaelamarie
12/26/2019

Alfonso was an tome very helpful and informative nice to talk. Highly recomended. Visited this Eco system seen many birds alligators iguanas. Butterfly

Hecdav1
7/17/2018

Alfonso started as our tour guide and ended as our friend. After using him for our first excursion, we knew he was the only person to use for all of them. We book multiple excursions with him and were highly satisfied with them all. He...More

Barbara S
6/05/2018